Hi and welcome to another amazing ESAD blog hop. This one is featuring the Designer Series paper where you can buy 3 and get one free - only for the month of July. Click here to see the ones that are available for this promotion.
Now you are thinking what is ESAD? It stands for Extra Special Australiasian Demonstrators and at the end of my blog is a more detailed explanation - please take the time to have a read.
Now you may have popped across from my friend Barb and I can't wait to see what she has made.
It was such a hard decision on what paper to use but I went with one that you can get for free when you buy 3 called
Nature's Poem Designer Series Paper
146338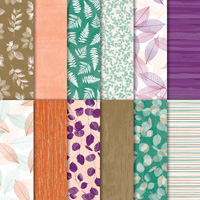 Just a close up of the papers with leaves on them.
Love the patterns and the colours in the DSP and that the colours used are on the back - how good is that!
I love using the Curtain fold so my first card used that with the lovely Mint Macaron as the base card with the birthday wishes stamped in Cajun Craze.
To stop the fold being through the complete piece of dsp. I scored at 3" and then placed the top edge at 1 1/2" mark and then tilted the bottom till it was at the 3" score mark and cut the bottom piece off.
Then continued on with my score marks at 4",6",7",9"and 10". My original piece was 4" by 11 1/2 " as I wanted some Mint Macaron showing on each edge of the fold.
Used the lovely framelit from the Stitched Labels on page 220 - wanted a small Birthday Wishes so it didn't cover the folds.
Then I used the piece I had cut off and placed across the Cajun Craze and cut the extra off. The leaves from the Nature's Roots framelits -page 218 were just what I needed to balance the pearlized Doily (I sponged the edge in Cajun Craze - hard to see in the photos).
Just a close up of the leaves from the Rooted in Nature Bundle - page 143.
Now it is onto Libby and I can't wait to see her creation and then seeing what everyone has made. If you get lost in the blog hop just click on the participant list below which will get you back on track.